These pictures are from our Fall Rotations that we did on Halloween. Rather than having parties on Halloween, the Kindergarten teachers participate in fall rotations. Basically we each pick an activity that is either fall or Halloween related and we rotate classes all day long! It is tons of fun for the kids and the teachers! The teachers teach the same lesson/activity all day long to every Kindergarten class. This is great because the students get to move around all day and the teachers only have to plan one activity! Of course it is for 140 students but that is okay :)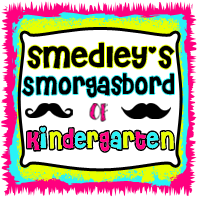 Now onto our pictures :)
How sweet is my class!?! I am so blessed :)
We also talked about bats! The boys and girls really enjoyed learning about bats! It is always fun starting a new topic and listening to all of the things they tell you they already know about the topic. I love how kid's minds work!!
We spent a few days learning about the bats and doing research on them (hello common core!!) and then of course we had to write about what we learned!! I am so happy to say that most of my students wrote these on their own! I mean there are no "I like" or "I cans"!!! Wooohoo!!! They are producing informational pieces!! Love it!! :)
Nothing says October like Spiders!! Check out these super fun hats we made after learning about spiders!!
I got this idea from Pinterest!! Click here to see where this idea came from!!
We also had TONS of fun using dice to complete these Spider Spelling sheets!!! Students had to roll the dice and then write the word that was in that column. The first one to the bottom was the winner! I cannot remember where I got this from so if it is you please let me know so I can give you credit!! My students loved it!!
Of course we also did leaf rubbings! So much fun!!

Happy Fall!! :)